Hey everyone... Long time, no post!
Well, a lot has happened over the past month, starting with the move into the new house! On a whirlwind Thanksgiving week, we closed on our new house and moved in the very next day. Vicky and I absolutely love our new house... it's still hard to believe that we actually own this place! Sure, we're still in the midst of a bunch of boxes, and yeah, the place could use a coat of paint and some landscaping, but it really is about as close to our dream home as we could ask for.
The Christmas holiday brought a slew of visitors to our house... that's right, Vicky and I decided it would be an amazing idea to host Christmas this year - just a few weeks after we moved in. Prior to my family's arrival, Vicky did double-duty: In between feedings, burpings, and diaper changes, she managed to unpack most of our boxes, decorate the house, and even do some Christmas shopping. She's quite a super mother and wife! Anyway, all of her hard work paid off, because when my family arrived, the place was immaculate! A good time was had by all. Just this morning, I took my mother -- the last of our visitors -- to the airport. It's back to just the five of us (Charlotte included)!
Claire and Grace turned 5 months old last week, and they've been growing and developing in new and exciting ways. Both of the girls are interacting with their environment a lot more... reaching for toys, watching the world around them, and examining one another. Grace, who rarely broke out a smile, is now grinning from ear to ear most of the time, and we've even heard a few laughs out of her. Claire continues with her happy nature, but she's also added a new skill to her repertoire: rolling over. Yes, she's mobile (in a sense), so we have to keep our eyes on this little one!
Claire and Grace had the pleasure of meeting their brand new cousin, Lauren, who is two months old. Our girls seemed very interested in the new addition to the family, and rightfully so: Lauren is totally cute and certain to break some hearts.
Anyway, here are a few photos of the girls from the last few weeks:
All decked out in their reindeer attire... Claire on the left, Grace on the right: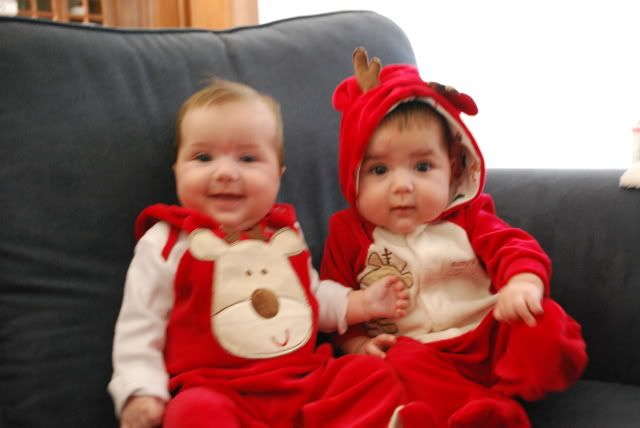 Claire has strong little legs... we're scared that she'll be walking soon!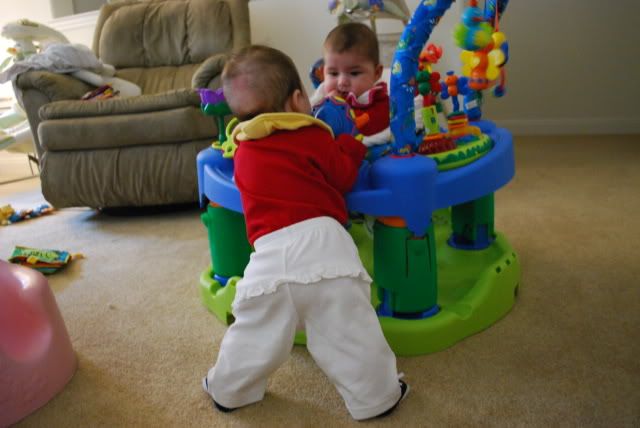 Grace (on the right) just loves to smile:

Well, that's all for now. We'll try to be better about updating our blog! Happy Holidays and Happy New Year!